Bedarra Island Accommodation
Bedarra Hideaway is the Bedarra Island accommodation for couples and honeymooners seeking stunning views, privacy and something unique.
The decor is fun but elegant. The building is a work of art by award winning architect Chris Van Dyke. The floors are crafted from recycled railway sleepers and the ceilings from bleached logs. Hardwood doors completely retract opening the villa up to the veranda, a new plunge pool, and the spectacular views of the Coral Sea, the Great Barrier Reef and North Queensland islands.
Previous owner and famous photographer Peter Lik searched the globe to find unique pieces to build the character and ascetics of this award winning retreat. The hand carved teak front door was imported from Bali and the original island canoe hangs from the ceiling forming a light shade. Stone African statues compliment the onyx sinks in the bathroom.
With two Queen suites and a separate studio bungalow, Bedarra Hideaway can accommodate one couple, two couples, three couples or a family of up to six.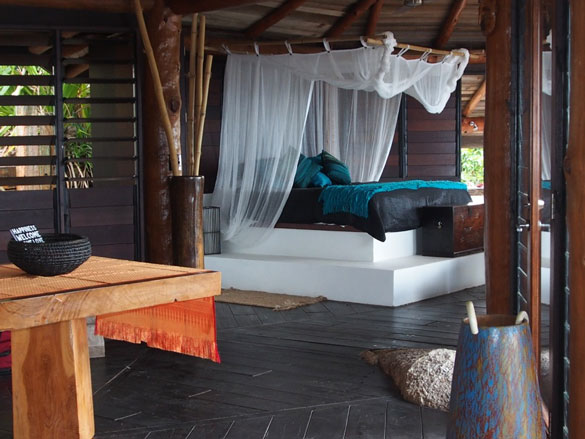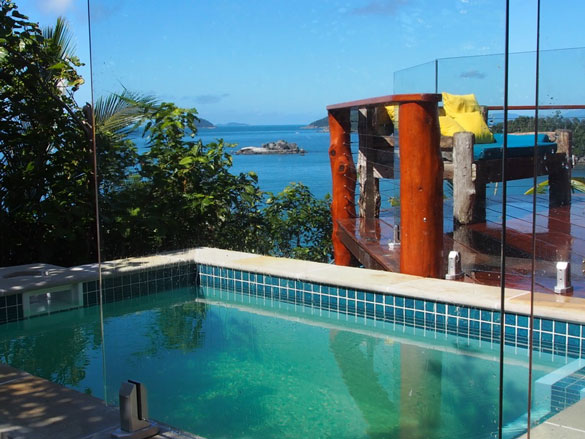 Catering and Dining
At Bedarra Hideaway, we value your privacy and comfort above all else. For this reason we have provided a fully equipped kitchen for self-catering, and a gourmet sample menu if you would prefer 100% organic gourmet meals prepared and snap frozen for your convenience.
Organic Gourmet Convenience Meals
Now you can enjoy a 6 STAR Dining Experience designed by our team of Master Chefs on request! Each dish is meticulously designed by our team of chefs, cooked and packed for your enjoyment - and it's all organic. All you do is heat, serve, and enjoy. Email us or phone 07 4067 5311 for more information on this option.
Self catering
With so much local produce to choose from, self-catering at Bedarra Hideaway is a gastronomic adventure. Feast on fresh local barramundi, coral trout, snapper, tuna, oysters, mud crab, banana prawns or Moreton Bay bugs. Choose local grain fed beef and lamb, organic gourmet sausages, local free-range chickens and eggs. Indulge in the exotic tropical fruits – mango, lychee, custard apple, papaya, dragon-fruit, guava, sapote (chocolate fruit), mangosteens and more. There is also a great variety of local gourmet cheeses, and organic yoghurts and milk.
Guests Food Order Forms:
Woolworths
Alcoholic Beverages

The ultimate honeymoon destination, private wedding venue, or unforgettable romantic getaway...